Welcome to the Milne Dam Conservation Park in Markham Ontario
Located just off Highway 7, on the east side of McCowan Road, Milne Park is a terrific place to hike or bike with your family. We spend a lot of time exploring on and off the trails into the depths of the park until the tall, wild grass prevents us from going any further.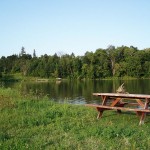 I live across the street from this magnificent park (it's one of the main reasons we chose the home that we did) and have even seen deer walking in our neighbourhood! Dusk is our favourite time to go into the park. The bats are in full force diving for bugs, and catching a glimpse of the many deer that live there is a real possibility. Bird watching is also a popular activity at Milne as it's been a stop off for migratory birds for over the decades. You can also fish in the river there.
Nearly 200 years ago, the mill and dam in this park played a huge role in making Markham a thriving place to live today. It was named after Alexander and Peter Milne who operated a mill near the current dam structure in the 1820s. The business continued to expand through the 19th Century and by 1911, Archie, the grandson of Peter Milne, built the first concrete and steel arc dam in Canada.
Today, the park consists of much more than a dam. It is the largest park in Markham, spanning more than 300 acres of natural beauty. With 2.3 kilometres of trails running through lush forests and along the Rouge River, and lots of benches and picnic tables to relax on, the Milne Dam Conservation park has something to offer everyone. You can enjoy a picnic at one of the many picnic areas or even reserve an entire picnic site for a family reunion through the City of Markham.
Another great time at Milne is Canada Day. On July 1st there is a great display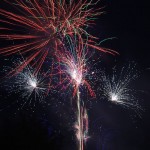 of fireworks, but there is so much more too! The celebration kicks off at 4 p.m. with a spectacular parade of floats, dancers and entertainers. Children are encouraged to paint their faces, dress up and decorate their bikes or wagons and join the parade. There's always lots of yummy food and live entertainment to enjoy throughout the evening. You can find all the details here.

All in all, Milne Dam Conservation Park is a great place to spend a sunny day with your family surrounded by nothing but nature and tranquility.


<! -------- Eof Page Content --------->