2014 Paint Trends for Your Home
Walking through as many homes as I do throughout the year, I tend to see a lot of different paint colours on the walls . One thing is certain, colour is very personal. Some homeowners like vibrant and dramatic tones while others prefer a more calming and muted palette. Throughout the year, paint companies test various colours to determine which one will be showcased as their 'colour of the year'. Here are three of the top ones:
Pantone's Colour of the Year: Radiant Orchid
This mixture of purple and hot pink can work for accent pieces or accent walls but I'd be hesitant to paint an entire room this colour.
This vibrant hue is a red-purple and its perky quality is eye-catching to say the least.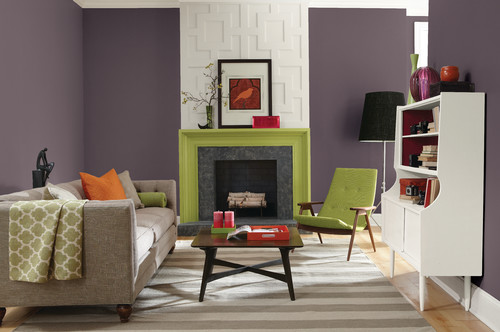 Sherwin-Williams' Paint Colour of the Year: Exclusive Plum
This hue is also in the purple family but leans more towards the purple-blue side of the spectrum.
It's a deep, cool colour that is much more muted than Radiant Orchid but can be very dramatic on your walls.
Benjamin Moore's Colour of the Year: Breath of Fresh Air
Well we have jumped over to the other side of the colour wheel for this pastel shade of sky blue.
While not a conversation starter like the previous two colours, this hue can certainly work well as a background to bolder colours or be an excellent pairing with various shades of white for a more calm and tranquil feeling.
Remember this tip, when you decide to paint your walls make sure to include in your budget the cost of replacing any light-switch plates and floor vents that might need updating.

Thinking of renovating? Along with adding a new coat of paint, there are some specific improvements you can make to your home that will pay off more than others. Get the facts here.