Analysis Paralysis Causing Buyers to Lose Out on Home O
wnership
Analysis paralysis is the state of over-analyzing (or over-thinking) a situation so that a decision or action is never taken, in effect paralyzing the outcome.
We see this in today's real estate market. Buyers and sellers aren't sure which way the market is going partly because of the effects of the tightening mortgage rules as well as the likelihood of interest rates rising soon.
In particular, buyers are unable to decide whether they should buy now and risk declivity in value—especially before they can close—or wait too long and be priced out of the market by rising interest rates.
For people wanting and needing to make a move, now is definitely a good time to buy, especially for 'empty nesters' because they're selling lower but also buying lower. Due to a healthy inventory of homes on the market, there are some good deals to be had. Several of my investor clients who don't fall victim to herd mentality, have scooped up some great buys because they have broken away from 'herd mentality'. They know to zig when others zag (or over-analyze).
Analysis paralysis is caused by fear. Fear of failing, fear of losing money and fear of making a mistake. Well-intended buyers spend hours and hours looking at homes online, going to open houses, even going on showings but are still paralyzed to put in an offer when they see something they like, thinking that if they wait, the price might go down even further. Sometimes it does but more often than not the house is purchased by someone else and they must start the process all over again. So, what's their time worth? If you are stuck in analysis paralysis you are gaining nothing by doing nothing and losing valuable time in the process.
How to Overcome Analysis Paralysis When Home-Buying
Analysis paralysis does not apply to first-time buyers who are just learning about the buying process and the market. It takes time to get a sense of fair market value so that you do not overpay when you find the home you want.
We offer a free 'market education' service to our buyers that totally prevents buyer's remorse. This is a fantastic service whereby we take them out to look at homes not for the purpose of buying but for them to get a firm sense of the value available in their price range. This way, when the right home comes up when they are ready to buy, they have the confidence to act on it right away. The best deals sell very quickly, even in a sluggish market!
Analysis paralysis takes over when you are ready to buy, you have a strategy and the money but you can't pull the trigger.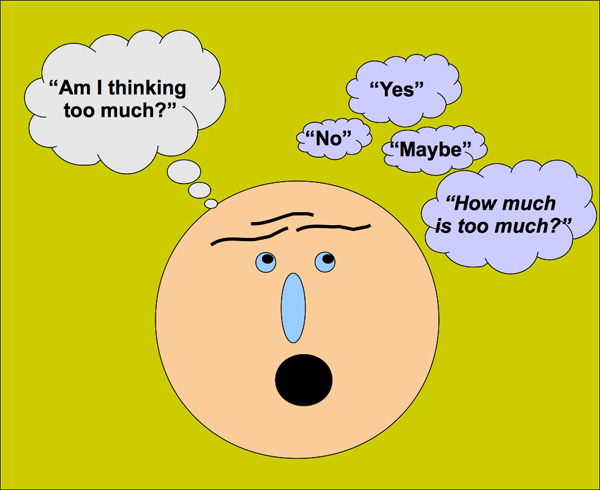 To overcome analysis paralysis give yourself strict guidelines for buying:
If you are spending loads of time house-hunting but have not yet purchased or if you want to avoid this scenario altogether, follow these steps:
Step #1 Write out specifics on the type of home you are looking for, the neighbourhood, the condition, and the most you would pay for the property.
Step #2 If you see a property come up for sale, buy it if it meets the guidelines you created. You have already figured it is a good deal for you. You don't have to do anymore thinking, buy the house.
What is the worst thing that could happen? One thing I always consider when making a big decision about life or real estate is "what is the worst thing that could happen if I do this?" In most cases we believe things will be much worse in our heads than they will be in reality.
Conclusion
Buying real estate is a big deal and is an awesome investment over time. Once you have d
ecided that you want to purchase a home and you have the means to make it happen, don't let analysis paralysis hold you back. A great purchase is much better than the perfect deal that you will never find.

We are seeing plenty of analysis paralysis right now in the housing market. Lots of over-thinking instead of acting, and thereby missing out on some great opportunities. Ontario continues to be a magnet for immigrants, especially the GTA. These softer prices will not last. Now is the time to scoop up a detached home (especially one that requires a few renovations) in a great neighbourhood near a super-performing school.
When it's all said and done, there is something extremely profound and gratifying in owning a home so why put it off any longer if you have the means to do it now?
We take such great care in helping our clients achieve the very important goal of home-ownership. There is a lot to learn along the way and we are happy to take all the time needed to teach them so that they have the confidence to know when they are getting a great deal. This is very gratifying and one of the best parts of being a Realtor!