On the Hunt: Best Markham & Stouffville Easter Egg Hunts
Spring has finally sprung, and all of a sudden Easter decorations have appeared (and in some cases beside Christmas stragglers that have finally thawed out!).

Looking for some family fun for the holiday weekend? These annual Easter Egg Hunts in Markham & Stouffville will put that spring back in your step and have you hopping around!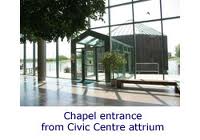 MEET THE EASTER BUNNY ON MAIN ST. MARKHAM: What Easter celebration would be complete without a meet-and-greet with our favorite furry friend? Bring your cameras and your smiles and grab a pic with our own Easter Bunny on Main Street. Treats and stickers will be handed out (while they last) and parking is always free. Saturday, April 19 12-3PM, 132 Robinson Street.
JOIN THE PARADE IN UNIONVILLE: While you peruse the shops on Main Street in Unionville activities abound at the Millennium Bandstand (noon to 4 pm. The egg hunt for kids, 3-6 years old, will take place at 12 p.m. at Millennium Park and the Easter Bonnet Parade starts at 2 p.m. from Crosby Arena. The kids will love all the crafts, characters, face-painting and free horse carriage rides while you will love the much-needed time outdoors.
MORE THEN JUST THE EASTER BUNNY IN DOWNTOWN STOUFFVILLE: Join the fun in Downtown Stouffville for their annual Easter Egg Hunt and an opportunity to meet the Easter Bunny. Meet the rabbit-of–the-hour at the GO Station at 10 a.m., 11 a.m., 12 p.m. or 1 p.m. and then follow the hunt stops for treats. Take the Easter fun up a notch with Zoo To You, an interactive and educational experience with many types of exotic animals, from 11 a.m. – 2 p.m.
From my family to yours...Happy Easter everyone!