Fishing in Markham, Ontario

One of my favourite things to do in the whole world is spend time fishing with my two sons.
We have two spots that we like best; Milne Dam Conservation Park in Markham and Toogood Pond in Unionville. We like to go early on Sunday mornings equipped with a container of worms and a couple of snack bars. However, now that they are much bigger (my sons, not the fish) the bag of snacks has increased too. This is urban fishing at its best.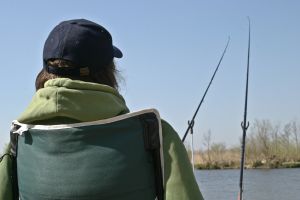 Markham boasts a circuit of fishing in parks and rivers throughout the city for fishing enthusiasts of all varieties. Milne Dam Conservation Park is open seasonally from Victoria Day until Thanksgiving Day. This 305-acre park is the largest in Markham and one of the cities best-kept treasures. A concrete fish ladder has been constructed in the park to assist the fish populations traveling along the Rouge River system.
They say the Dam has bass, sunfish, trout, perch, salmon and pike in it. We haven't been so lucky as to catch anything too big so far. But I have to confess that half of our time is spent checking out the wildlife and wandering the many trails. An MNR fishing permit is required to fish at the park except for "Family Fishing Week in July" (first week in July). Fishing permits can be purchased at Canadian Tire stores or any bait shop.