Condo Market Update
IMPORTANT TIME SENSITIVE UPDATE RE: Condo Apartments Across the GTA
By: Kenny Chan, Sales Representative
This is a long read, but it's important to read through the whole thing!
When reviewing condo apartment average sale prices across multiple GTA cities: Toronto, Richmond Hill, Markham, Vaughan and Mississauga on a weekly average basis since December 2019, here's what stood out:
3 of the 5 cities showed an overall price drop since the peak (peak happened around mid to late February)
2 of the cities (Markham and Vaughan) seemed to grow in price. (Markham's recent price increase may just be an anomaly)
Take this information with a bit of precaution as we have only recently started a province wide shutdown.
The next few weeks will gauge how the rest of the year may go.
For sellers of vacant property, now would be a good time to sell....same for sellers who are looking to downsize or are over-leveraged.
For buyers who are looking to move now, it's a lot more acceptable to place conditional offers than last month! The days of firm offers are gone for the time being...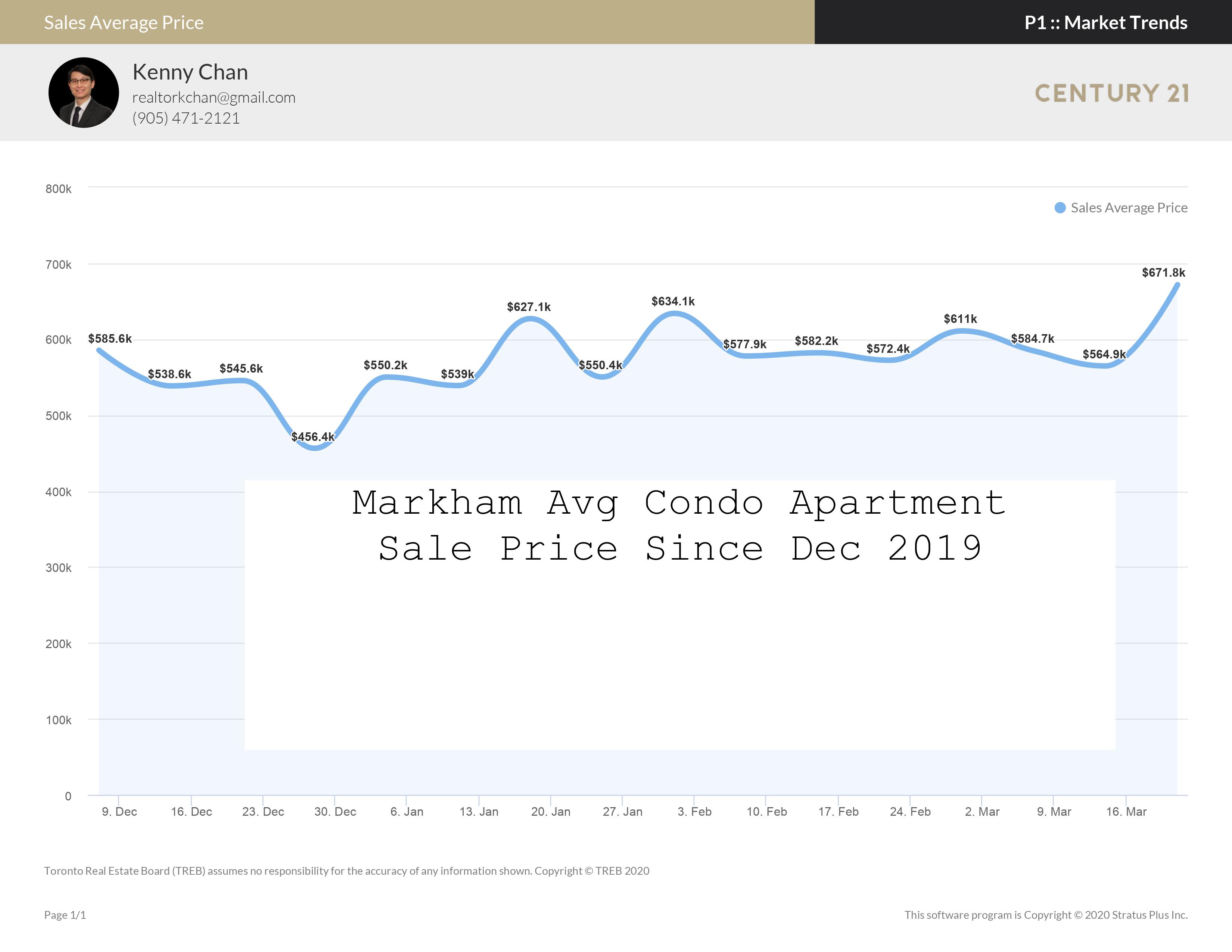 There are many unanswered questions about the rest of 2020 for buyers and sellers:
- How will low (or lower) interest rates affect buyers? Many buyers are on the fence right now, definitely a lot more than typical for a Spring market. This is more likely due to emotional uncertainty rather than economic at this present time. They can greatly affect the market when they decide to jump back into actively looking to buy real estate.
- How will this economic downturn affect average prices for homes? Homeowners with financial difficulties may choose to refinance, may choose to rent out a secondary suite or may sell and move on.
- If there is a prolonged dip in real estate prices, where's the bottom? During the last real estate price bust (Q4 2007 to Q1 2009) average prices dropped by 11%. Some areas of the GTA have already seen 10% price drops. Is this the bottom or is there more to go? It's impossible to predict the future price of real estate (just like it's impossible to predict the future price of the stock market!!).
The Conference Board of Canada predicts (assuming travel bans and social distancing continues to the end of August in the US and Canada):
Government transfers to people, lower interest rates, and other measures to increase liquidity will help stave off household and business bankruptcies—keeping Canada's financial institutions in relatively good shape.
Real estate markets will cool significantly from the frothy activity reported in February, but new home construction is expected to hold up through the downturn.
With the COVID-19 pandemic contained by September of this year, a rebound in household spending is forecast to occur in the fourth quarter and into 2021.
Pent-up consumer demand will help economic activity rebound, with real GDP growth of 3.3 per cent forecast in 2021.
As always, if you are looking for the latest information on the real estate market, please reach out to us!!
905.472.7155