Welcome to Greensborough!

If you are heading northeast in Markham and spot a very attractive neighbourhood with a charming lake, parks, schools and even businesses, then chances are you found one of Markham's newest communities called Greensborough.
Located just north of Markham Village and west of Cornell, Greensborough offers something for everyone.

Enjoy the Outdoors? At one time, Greensborough was known as one of the largest agricultural areas in northern Markham. Today, it is home to one of the largest neighbourhood lakes around, Swan Lake Park. Equipped with trails and wildlife, this a great place to take the kids for a walk on a cool, spring day. In addition to Swan Lake, there are also playgrounds, soccer fields, and bike paths.

Convenient Shopping? Then, head to Greensborough Village Circle. Shaped in a half circle, here you will find a local dentist, physical therapist, walk-in clinic, convenience store, learning centre, and best of all Caldense Bakery, where you can sit and enjoy breakfast and lunch…or just take a loaf and pastries to go.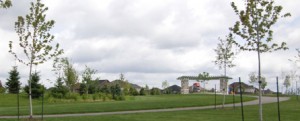 Great Schools? Opened officially in 2004, Greensborough Public School continues to perform above the provincial standard on school rankings. In addition to its strong academics, Greensborough P.S. along with O.P.H.E.A (Ontario Physical and Heath Education Association), participates in the living school project, a community-driven program that focuses on being healthy through active living and nutrition.

Looking for a Catholic School? Then, check out Greensborough's own St. Julia Billiart Catholic School , an outstanding and high achieving school within the region.

Want more? For commuters in Greensborough, there's the Mount Joy GO train station, which takes commuters to and from Toronto. And for parents staying local, there's the indoor playground known as Kids On The Loose! A fun-filled year round play area for kids 1-11, which even has a little café inside for visiting parents.

So, great schools, parks, a lake, commuting options, local businesses and safe, attractive streets and homes….all the reasons why Greensborough has become a popular area with something for everyone! Research Greensborough homes for sale here. If you have any questions, I am just a call or click away! (905) 471-2121 or John@Procenko.com