Selecting the Right Mover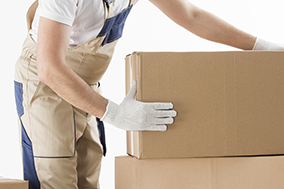 The last thing you want on moving day is a problem with the moving company. Ideally, you want them to show up on time, handle your possessions with care, and act professionally. And, if you're helping an aging parent 'rightsize' into a new home, you may even want some additional services like packing, unpacking and getting things hooked up and set up.
We can help you with all of these and have a few smaller moving companies that we recommend for these types of moves.
Here are some tips that will help you choose the best mover for your needs.
1. Get a recommendation from someone you trust. That could be a friend, family member or colleague. As your real estate agent, I can also recommend some reputable movers.

2. Get everything in writing. Make sure you understand exactly what you'll be paying. Ask about circumstances where extra charges may be applied.

3. Ask if the moving company is certified.

4. Reputable moving companies are fully insured. Ask to see the company's certificate of insurance or some other proof of coverage.

5. Avoid part-time movers who work weekends. Usually, they're not professionals. You may save some money, but you'll be taking a risk.

If you have any questions or would like recommendations on some trusted moving companies, please give us a call. We will do anything to make sure that your moving day goes very smoothly!