Welcome to Toogood Pond in Unionville, Ontario
Just north of Unionville's bustling Main Street is a favourite spot of many nearby residents - Toogood Pond Park. Located right behind Unionville Public School between Carlton and Kennedy, Toogood Pond Park spans more than 82 acres and is the perfect place for a leisurely walk, a summer's day picnic and a celebration.
Toogood Pond is a popular destination for my family and for the folks of Unionville and Markham. With its majestic trees, beautiful walking trails, and abundant wildlife it has become a very popular site for wedding photos and photography in general. The scenic trails wind over bridges and across streams. Locals fish along the edges and people walk their dogs or soak up the sun on one of the many benches along the trails.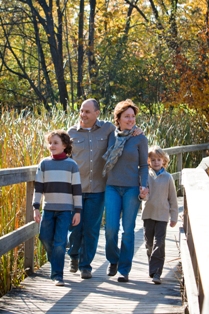 My kids love this park! We ride our bikes there all the time and fish clams out of the stream that runs through it. Of course, we always bring a little snack for the many ducks and geese that live there. It's not uncommon to spot blue herons and turtles too.
Village roads connect directly with the walking path around this 19th Century pond. Back in the 1840's, it used to power the grist mill. The pond became known as Willow Pond or Willow Lake to those who built small summer cottages on north Main Street, but the cottages left with the name and Toogood Pond Park is now surrounded by the large, luxurious homes you see today.
Each year the Unionville Festival marks the start of summer by filling the streets and the park in a celebration of community spirit. 'Krazy Kraft' races, pet shows and treasure hunts bring the park to life with visitors all weekend long, and at the end, everyone gathers at the pond to watch a spectacular display of fireworks.
Toogood Pond Park is in the heart Unionville, one of the most beautiful and spirited neighbourhoods in the GTA and is loved by both visitors and residents alike. If you'd like a private tour of the area or would like to know what homes are for sale nearby send me an email or give me a call on my direct line (905) 472-7155.