Retirement Living in Markham, Ontario
Markham's many baby boomers are moving into their golden years, retiring and looking for a low-maintenance lifestyle. With these aging numbers, it's no wonder communities are preparing for the retiring population by creating various retirement developments and seniors' residences to accommodate the trend.

In York Region alone, according to Statistics Canada, the senior population (65 years of age and older) will increase from 91,920 in 2006 to 303,517 by 2031. That's 20 per cent of the entire population of York Region. By 2051, approximately one in four Canadians is expected to be 65 or older, numbers never before seen in history.

The numbers aren't the only change coming. These seniors are not going to be like the seniors of the past. With endless technological developments, widespread education and a taste of the world, baby boomers are looking for innovative ideas when it comes to the next phase of their lives. That's why retirement developments are stepping it up a notch, adding more amenities, diverse activities, tailored services and creating high-end, resort living for the quarter of Canada's population that is moving into retirement.
Here's what's available in Markham:

Amica at Swan Lake: Retiring by the lake is a dream for many seniors. This rental retirement residence offers a mix of urban and country living in a welcoming setting. Hosting a variety of resort-inspired amenities, this adult living development is a luxurious place for those looking for a little less maintenance. Featuring fine dining, wellness and vitality programs, housekeeping, 24-hour emergency service and unlimited social activities, Amica is the kind of retirement location for those looking to keep up an active lifestyle.

Sunrise Senior Living of Unionville: The home-like architecture of this condominium creates a comforting vibe for senior living. With a selection of suites and community areas surrounded by patios and gardens, this residence strives to maintain its residents' independence and provide a warm and inviting place to live out their golden years.

Bethany Christian Living is made up of three separate residences for seniors situated in East Unionville.
1) Bethany Lodge is a 128 bed long-term care home operating under the ministry of health and long term care.
2) Bethany Manor is a 2 storey retirement home with 38 units providing meals and housekeeping to its residents. The staff provide a range of programs and services catered to their residents to improve the overall quality of life. With a choice of single rooms or suites, Bethany Manor features an outdoor patio and easy access to shopping. The residence shares its gardens and groomed grounds with Bethany Lodge long-term care facility.
3) Bethany Courts is a 72 unit life-lease condo building for full independent living. It is set amongst landscaped gardens and is the third development in the Bethany residences. It features 72 suites designed for independent living, two atriums soaring three floors high with gardens, garden furniture and a pond. Residents can choose from the 25 suite models, all named after a flower, to best suite their lifestyle. Ranging in size from 774 to 1610 square feet, the carefully designed suites come with a choice of one or two bedrooms.

Chartwell Rouge Valley Retirement Residence: This gorgeous
development even looks like home. Located on 16th Avenue just west of Hwy 48 in historic Markham and in the heart of the town's amenities, this development allows residents to select the lifestyle that suits their needs. With 88 suites and the option of studio, one-bedroom and two-bedroom designs, Rouge Valley living includes a games room, dining room, lounges, activity room, hair salon, movie theatre, spa, library and gym, plus walking paths throughout the landscaped grounds.
Chartwell Woodhaven Long Term Care Residence: Conveniently located in Markham, close to Markham-Stouffville Hospital and Highway 407. This facility is divided into seven different sections, each featuring its own dining room, living room and spa. This home also boasts a café and celebration room for socializing. Staff delivers 24-hour nursing care, assistance with daily living activities and high levels of personal care, ensuring family members can feel confident that their loved one is well cared for.
Hampton Green: Located on McCowan Road in the Markham community of Raymerville, this condominium development is luxury living at its finest, featuring a swimming pool, fitness centre, tennis court, sauna, games room and guest suites. This mature lifestyle building overlooks the greenbelt and is just steps from any and all amenities Markham has to offer.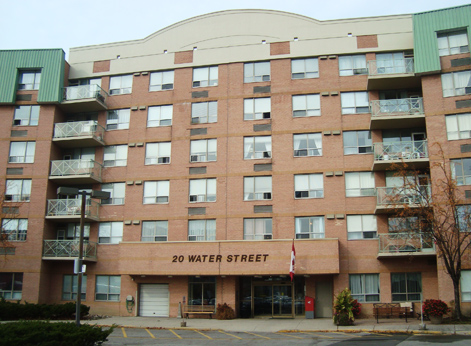 Cedarcrest Manor: Tucked away behind Main Street Markham, this is an excellent central location. Cedarcrest consists of nonprofit social housing units for seniors based on market or rent geared to income. It has 150 apartments in addition to fully accessible senior housing suites, Cedarcrest also boasts an activity centre for those who want to remain active and social. The facility hosts community events and activities year-long.
For more information on any of these accommodations, please contact me. I would be more than happy to help!