Welcome to Raymerville
Raymerville is a community in Markham, Ontario which comes from the community's major collector road, Raymerville Drive. Sometimes this community is referred to as "Markville East" because it is situated immediately east of Markville Shopping Centre and Markville High School (and the local police station).
It is a well known, family-friendly area that features a mix of townhomes and detached houses with a few apartment buildings to boot.
If you'd like to learn more about this area, we'd be happy to show you around. Send us an email or call our direct line at (905) 472-7155 and we'll be in touch quickly! (We know of a great cafe in the area and the coffee is on us!)
Schools in Wismer | Central Markham

St. Brother Andre Catholic High School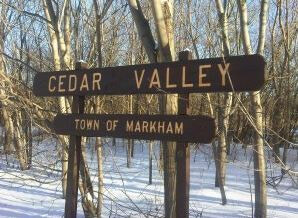 Cedar Valley Park is a real gem right in the heart of Raymerville. It's a treat to walk through this meandering 19-acre park that hugs the north and south edges of the Raymerville Drive loop, offering a natural, organic feel to city living. When I take