Welcome to Legacy
Legacy is a very well-established neighbourhood in East Markham, Ontario, with tree-lined streets, a golf course, walking trails, a new shopping centre, and a vibrant community centre.
Located in the historic area of Boxgrove, the neighbourhood of Legacy is located just south of Hwy 407 and lies between Rouge River Estates to the west and Ninth Line/Boxgrove Bypass to the east.
Legacy is a mixture of older homes, small farms, estate homes backing onto the Rouge River, and newly built detached and semi-detached homes - especially to the east of the Boxgrove Bypass. Legacy has its own public school which was built in 2006.
he Legacy community is very active, especially the Legacy Community Rate Payers' Association. Spring and Winter Festivals, neighbourhood garage sales, and corn roasts are just some of the activities enjoyed each year by its residents. It is a beautiful area to live in Markham.
If you'd like to see our Legacy Real Estate Listings or learn more about this area, we'd be happy to show you around. Send us an email or call our direct line at (905) 472-7155 and we'll be in touch quickly! (We know of a great cafe in the area and the coffee is on us!)
Schools in Legacy | East Markham

Sir Richard W. Scott Catholic Elementary School
St. Brother Andre Catholic High School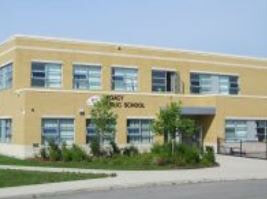 Markham's Legacy Neighbourhood Has It All! Beautiful homes, golf course, walking trails, and a short walk to Starbucks!